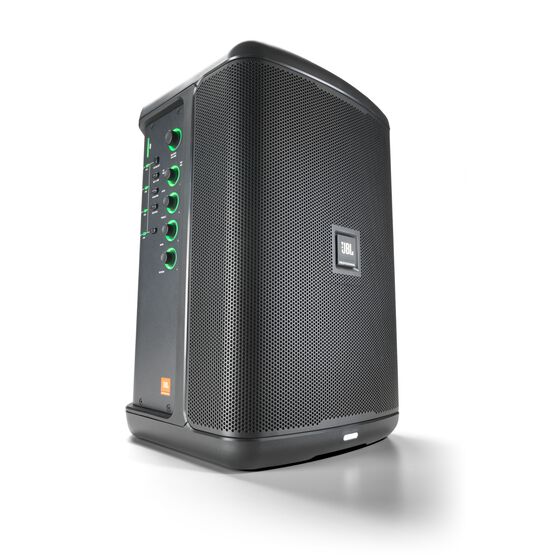 JBL EON ONE Compact
Details
https://www.jbl.com.sg/professional/JBL+EON+ONE+Compact.html?dwvar_JBL%20EON%20ONE%20Compact_color=Black-GLOBAL-Current
---
All-in-One Rechargeable Personal PA
Professional Performance In a Small Package
Highest-in-class max SPL of 112dB and best-in-class bass response of 37.5Hz in an ultra-compact package
Bluetooth® Audio Streaming and Control
Pair a Bluetooth device for audio streaming to and DSP control of up to four units using the JBL EON Control app, available for iOS® and Android™ devices
Full-Featured Digital Mixing
Full-featured 4-channel digital mixer with pro preamps, a dedicated guitar input, phantom power, built-in Lexicon and dbx effects, music ducking, EQ and more.
Long Lasting Battery—Up to 12hrs
Play more sets or teach more classes, confident in EON ONE Compact's 12-hour max battery life. Battery is easily swappable and can be charged in use.
Total Control At Your Fingertips
The JBL EON ONE Compact Control app lets you sound your best in seconds by selecting and controlling effects and presets right from your phone or tablet. Peer-to-peer Bluetooth gives you the ability to sync and control up to four EON ONE Compact units from one single source for music playback.
Complete Portability
With an ergonomic handle, ultra-lightweight of under 18lbs, and battery power you can be ready to rock out anytime, anywhere.
Complete Connectivity & Convenience
Two XLR/TRS Combo jacks with phantom power for condenser mics, one 1/4-inch hi-Z guitar input, 1/8" aux input and Bluetooth streaming. Built-in headphone jack for rehearsal or set up. Tablet stand with two high power USB ports for charging. Plus 1/4 passthrough to connect other units.
Ducking feature
Lowers background music volume anytime you speak to ensure your audience hears every last word, loud and clear.
Robust and Reliable
100 hours of stress testing ensures that it'll perform flawlessly in real-world conditions. The system is encased in a light, durable polypropylene shell that's rugged enough to handle your toughest gigs.
Performer Magazine:
"Ultra-portable, all-in-one PA system with Bluetooth that delivers high-quality sound anywhere, for hours on end."
Sound on Sound:
"The Eon One Compact is a hugely convenient portable sound system, capable of solving a wide range of problems. And it sounds a lot bigger than it is! The ultimate test is whether I would part with my own money to buy one — and the answer here is definitely 'yes'."
Music Connection:
"I think this is an excellent and worthwhile personal PA system. JBL has thought of every possible way it can be used and designed this entire system and put it into an easy to carry, diminutive package."
Noisegate.com:
"Whether a musician, DJ, presenter, instructor, busker, educator or someone who just likes a good sounding portable speaker system, there's quite literally something for everyone with this little beast, it's hard to knock it."
Red Dot Winner 2020
Go Smaller, Lighter, Louder
The days of sacrificing sound system power and performance for portability are over. The JBL EON ONE Compact packs a professional-grade speaker, a full-featured 4-channel mixer and Bluetooth control into our most compact battery-powered PA, weighing in at just 17.6 pounds. Sound your best in seconds with premium effects and presets that you can customize right on your phone or tablet using the JBL EON ONE Compact Control app—no engineer needed. Presenters, fitness instructors and emcees will appreciate EON ONE Compact's ducking feature, which lowers background music volume when speech input is detected. Peer-to-peer Bluetooth lets you broadcast music playback. And with the EON ONE Compact's tool-free, swappable 12-hour (max) battery, you'll keep the party going long after the sun goes down. Whether you're a singer/songwriter, DJ, presenter, fitness instructor, or you just want to enjoy amazing sound on the go, get ready to #PlayAnywhere with JBL EON ONE Compact.