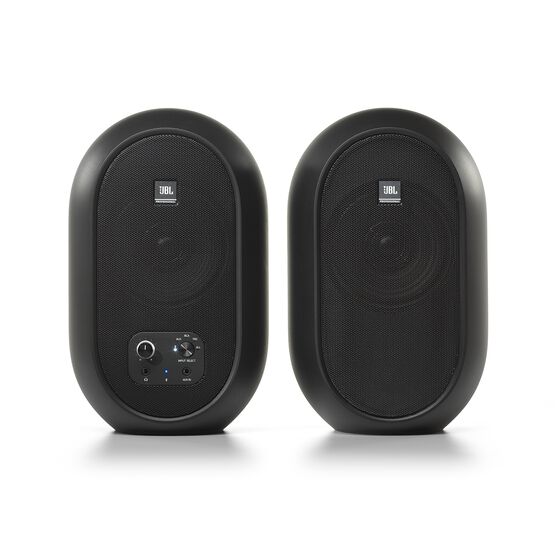 Coaxial driver design
With 4.5-inch (118 mm) LF driver and .75-inch (19 mm) soft-dome HF driver
Integrated 60-watt Class D power amplifier
Distributes 30 watts to each speaker
Acoustically optimized
For desktop placement
Three sets of inputs and built-in Bluetooth
Allow connection with professional equipment, personal music players and consumer products
Smart features
Include front-panel volume control, input selection and headphone jack with automatic speaker mute
Wired:
"A superb-value monitor set that won't clutter the desktop, these reference-quality speakers will highlight why it was worth spending the money on a decent recording microphone, pulling out the detail that will elevate your content."
CinemaSound:
"If you need a trustworthy speaker system which must have a small footprint, you're just not going to do better than the 104s. They deliver more than they should."
Music Connection:
"A solid choice for nearly any use in any room when you are looking for great sound in small, stylish desktop speaker"
American Songwriter:
"Much more sophisticated than any other desktop monitor I have ever used…small enough to fit into a tight desktop space yet still deliver a powerful and excellent sound."
Guitar Player:
"The 1 Series 104 monitors sounded excellent across the board, delivering nicely detailed highs and impressive low end for their size"
Red Dot Winner 2020
Legendary Sound - No Strings Attached
JBL 104-BT compact reference monitors with Bluetooth, the newest models in the 1 Series line, draw from seven decades of JBL Professional engineering to deliver the truest, most accurate sound in their class. They're perfect for recording musicians, producers, podcasters and vloggers, as well as professional audio engineers seeking an accurate portable reference with Bluetooth streaming. JBL 104-BT Reference Monitors combine a powerful coaxial 4.5-inch (118 mm) low-frequency driver and .75-inch (19 mm) soft-dome tweeter, potent integrated 60-watt amplification and an innovative acoustic design to reproduce honest sound with exceptional imaging and crisp detail. Bluetooth streaming lets you check mixes over Bluetooth to make sure they sound great in every listening scenario. Both the black 104-BT and white 104-BTW versions are sleek, elegant designs and compact form factors, making stunning statements in any studio while conserving valuable work space. Creative professionals, music lovers and anyone who wants the flexibility to stream both wired and wireless sound into high-quality studio monitors can count on JBL 104-BT to provide an accurate, reliable sonic reference and a truly enjoyable listening experience.